ORDERS, MEDALS and MILITARIA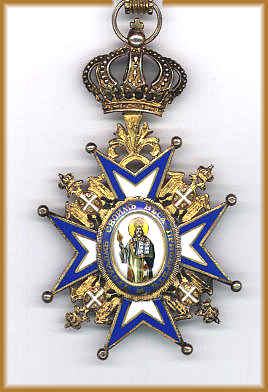 A classical Maltese cross blends harmoniously with elements of Byzantine-style heraldry on the obverse side of this Order of Saint Sava, III class, in its later version with the saint depicted in blue robes. One of the most celebrated Yugoslav orders, it was instituted in 1883 in the Kingdom of Serbia and carried over to the Kingdom of Yugoslavia, having been originally awarded for "merit in the areas of education, literature and fine arts"; after November 1914 it was broadened to cover also certain military achievements. This exemplifies the high end of our limited selection of Orders, medals and decorations (OMD) and militaria collectibles. Our focus is on the Balkan area and pre-World War II timeframe; however, not all stock is listed here and we do cover some other geographic areas as well as more recent times, so please feel free to inquire via e-mail for specific requests.


HOME PAGE

Copyright: © 1998-2006 RUDNIK Numismatics
All rights reserved.